Where is Watermans?  Click Here
(Sample notes here: Téchiné  or The Illusionist)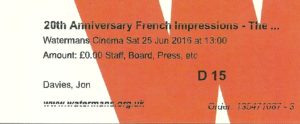 2022  Dates French Impressions
We are now up and running again
h an on-line French Impressions selecting films that will be shown at Watermans or available online.
Dates:
9th July -A special preview of the comedy Robuste with our first look at the work of Gerard Dépardieu since 2010!
And after the summer…
September 17th
October  8th
November  12th
December 10th
The Cinema Museum – French Sundaes are back
!
2022 Dates at last!  



The Cinema Museum, Elephant and Castle
Museum opens at 1.30 for event at 2.30. Finishes by 5.30

At 2.30 a talk and introduction, a screening of a complete feature, tea and cakes and a chance to see some of the amazing exhibits at the lovely Museum
March  27th
La Kermesse Héroïque (Carnival in Flanders) one of the great French films of the 30's. A small town in 17th century Flanders anticipates the invasion of Spanish army. Resist or appease? Their cunning plan proves a surprise to everyone. Jacques Feyder's award-winning comedy in a newly restored version. More about the film. With a look at the French popular cinema of the 30's.
May 15th
Le Dernier Combat (The last battle), Luc Besson's storming look at a dystopian post nuclear French landscape with tension, humour and all the traits that led him to become one of France's most popular directors.  Trailer here.  We will be looking at the director Besson became as introduction.
June 12th
Un Homme et une femme (A man and a Woman) the quintessential French romance that won its maker, Claude Lelouch, an Oscar and had everyone humming Daaaa Daaaa Daaaa dadidadida daaa daaa daaa dadidadida Here's a link if you don't know what I'm talking about . Accompanied by a look at the work of Claude Lelouch.
July 10th
 Swimming Pool François Ozon's   excellent thriller with Charlotte Rampling and Ludivine Sagnier. Something twisty and funny to finish off the season.
     0207 450 1889 or online booking
          One week the class watch on line or visit a film  and the next week discuss it.
          A chance to learn more about current trends and become your own critic!
"This class took me to films, play and even places I would never have been to by myself – really exciting.'
         Held at Morley College itself. Book now for January 2022

and…
Other courses, KS3, A level, Film Societies etc. by arrangement.