Where is Watermans?  Click Here
(Sample notes here: Téchiné  or The Illusionist)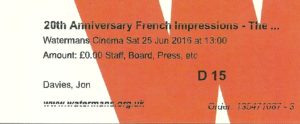 Autumn Dates 2023/4 Season
All at 1.00pm. Talk followed by break then introduction to film, a full screening followed by a Q and A! Finishes by 5.
September 16th  Paris Memories with a look at films that used the Capital as a character.
October 14th  Smoking Causes Coughing  (Fumer fait tousser) a comedy I could watch time and again and a chance to look at French Cinema's relationship with surrealism.
November 11th. One of the new films from the Autumn UK French Film Festival  Lost Illusions from Xavier Giannoli with Cécile de France and an all star line-up. And as background a look at the way filmmakers have mined French literature for cinematic gold from the earliest days of the silents to modern times.
December 9th. The latest version of Maigret starring Gérard Depardieu and made by French directing heavyweight Patrice Leconte. We will be looking at his work.
2024 dates:
13th January  We will start the new year with Driving Madeleine (Une Belle Course) a charming and very humane film with a look at the sometimes surprisingly nuanced career of Dany Boon.
10th February. The Lost Boys (Les Paradis) a sensitive critically praised film about a youth offenders institution and adolescent desire with a tough look at some of the issues facing French society today
16th March  Pot Au Feu. (La Passion de Dodin Bouffant)  Some of the best meals take a while to cook and this film demonstrates this but well worth the time.   I will be looking at the often amusing ways French Cinema has used food on film (La Grande Bouffe anyone) and all suggestions welcomed.
13th April To be decided.
The Cinema Museum – French Sundaes are back
!
2024 Dates to be decided



Make your requests please.
The Cinema Museum, Elephant and Castle
Museum opens at 1.30 for event at 2.00. Finishes by 5. (Note earlier time this season).


At 2.00 a talk and introduction, a screening of a complete feature, tea and cakes and a chance to see some of the amazing exhibits at the lovely Museum
In the meantime lots to see there with both its cinemas open again.
          One week the class watch on line or visit a film  and the next week discuss it.
          A chance to learn more about current trends and become your own critic!
"This class took me to films, play and even places I would never have been to by myself – really exciting.'
         Held at Morley College itself. Book now for January 2022

and…
Other courses, KS3, A level, Film Societies etc. by arrangement.