I present programmes at several venues…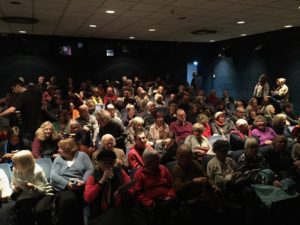 Where is Watermans?  Click Here
Saturday French Impressions with feature screening.
(Sample notes here: Téchiné  or The Illusionist)
Dates for your diary All At 1pm finish by 5pm

September 23rd From the Land of the Moo

n

with a look at the work of Marion Cotillard
October 28th Back to Burgundy and the cinema of Cédric Klapisch
November 18th Luis Buñuel's controversial Belle de Jour. We'll look at his work with an especial focus on his French films.
December 16th La Verité. Henri-Georges Clouzot's gripping courtroom thriller starring Brigitte Bardot

2018

January 20th  The new Michael Haneke, Happy End, with a look at his career.
February 17th Stephane Brize's  Une Vie, (A Woman's Life) and a look at the new wave of French costume dramas.
March 24th Léon Morin Prêtre, (Léon Morin Priest) Melville's astonishing 1961 film in a restored version with a look at the career of Jean-Paul Belmondo
April 21st The new film by Blandine Lenoir starring Agnès Jaoui Aurore (I got life). A real treat.
May 19th 120 Battements par minute (120 Beats a Minute). An astonishing and vibrant film.Nominated for 12 Césars!!!! 120 Beats a Minute is a magnificent piece of film-making and was the critical and awards success on 2017 winning 6 Césars, the French Oscar equivalents.. I will introduce it and takes us on a tour of other French films that gained such critical and popular acclaim. I will be sharing clips from some real treats and bringing some surprises.
June 16th  Un beau soleil Interieur (Let the Sunshine In) by Claire Denis "Inspired by, but not adapted from, Roland Barthes, Claire Denis' new film about a single woman living alone in Paris is a sophisticated delight" The Guardian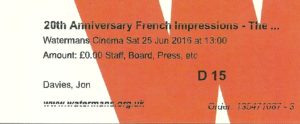 Next season of French Sundaes

April 22nd  Jean-Luc Godard's New Wave years with Alphaville
May 20th  Bertrand Tavernier with L'Appat a great thriller

June 17th  Claire Denis with Beau Travail one of her very best.
July 15th   François Ozon's Cinema – with 8 Women a bit of a 'marmite' film but quite amazing with a stellar cast.
The Cinema Museum, Elephant and Castle
Museum opens at 1.30 for event at 2.30. Finishes by 5.30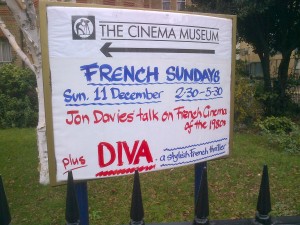 At 2.30 a talk and introduction, a screening of a complete feature, tea and cakes and a chance to see some of the amazing exhibits at the lovely Museum
         Near Waterloo Station.
     0207 450 1889 or online booking
          One week the class visit a film or play and the next week discuss it.
          A chance to learn more about current trends and become your own critic!
"This class took me to films, play and even places I would never have been to by myself – really exciting.'
         Held at Morley College itself. Book now for January 2018 places limited.

A brief history of French Cinema in 12 classes 1895-2017
      Classes held at the Cinema Museum (see above)                                                   
     Summer term 2018  Tuesday evenings 7.00 to 9.00 from April 17th to July 10th Book now


"I thought the time line approach and the balance of clips to information was nicely realised.  Plus great infectious enthusiasm from your good self.  Keeping the energy up so important in a group and you got it just right."
Here is the timetable (a bit fuzzy I am afraid):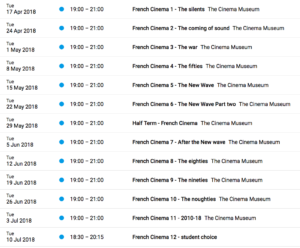 Other courses, KS3, A level, Film Societies etc. by arrangement.