Where is Watermans?  Click Here
(Sample notes here: Téchiné  or The Illusionist)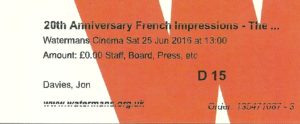 2021  Dates French Impressions

Sadly Covid has bitten again and Watermans will not be restoring full screenings of French Impressions until the New Year.
This is very disappointing I know for all of us.
We will however continue with an on-line French Impressions on Thursday nights selecting films that will be shown at Watermans and be available online.
Dates:
Thursday October 7th.       The film will be The Two of us   Here is the trailer
Thursday October 28th.     The film will be Bye-bye Morons  Here is the trailer
Thursday November 11th.  The film will be Deerskin    Here is the trailer
Thursday December 9th.    The film will be Céline Sciamma's latest Petite Maman. Here is the trailer

     0207 450 1889 or online booking
 Current Film and Theatre – Starts again in September back in the classroom
          One week the class watch on line or visit a film  and the next week discuss it.
          A chance to learn more about current trends and become your own critic!
"This class took me to films, play and even places I would never have been to by myself – really exciting.'
         Held at Morley College itself. Book now for September 2021

The Cinema Museum – French Sundaes
2022 Dates! Watch this space….but the next season will be

and…
Other courses, KS3, A level, Film Societies etc. by arrangement.