Special Event Sunday October 27th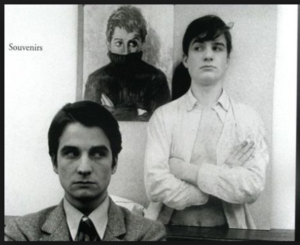 Doinel day.
A chance to see all four of Truffaut's Doinel comedies plus his short Antoine et Colette following the life of his character Antoine Doinel. People are already booking which is a relief. This is an idea that I can only find a record of once beofore and in New York!
£45 to include lunch, snacks and a celebratory drink.
| | |
| --- | --- |
| 10.00 | Doors open for Coffee and Tea |
| 10.30 | Introduction on Truffaut and his first film Quatre Cents Coups (400 Blows) |
| 10.45 | Quatre Cents Coups |
| 12.20 | Coffee Break |
| 12.30 | Introduction to Antoine et Colette |
| 12.40 | Antoine et Colette (short) |
| 1.15 | Lunch |
| 2.00 | Introduction to Baisers Volés (Stolen Kisses) |
| 2.10 | Baisers Volés (Stolen Kisses) |
| 3.40 | Tea |
| 4.00 | Introduction to Domicile Conjugale (Bed and Board) |
| 4.10 | Domicile Conjugale (Bed and Board) |
| 5.50 | Light refreshments and complimentary glass of fizzy |
| 6.10 | Introduction to L'amour en fuite (Love on the run) |
| 7.50 | Q and A and final chance to have a drink. |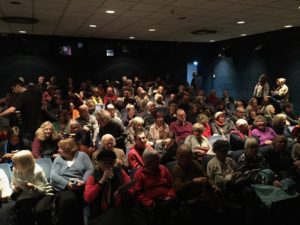 Where is Watermans?  Click Here
Saturday French Impressions with feature screening. 1pm for talk, 2.30 for feature followed by Q and A. Finish by 5.
(Sample notes here: Téchiné  or The Illusionist)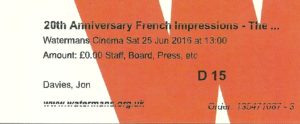 2019-20 Dates
September  21 Agnès by Varda – her last film See the trailer here. Agnès by Varda was the last film from one of France's greatest directors and one of the rare women of her generation to succeed in an industry dominated by men. This lovely film serves as her own joyful obituary. I will be choosing clips from her films and put her work in a wider context.
October 26th L'Homme Fidèle and the cinema of Louis Garrel.
Then November 16th (note date change) the cinema of Robert Bresson with a screening of Une Femme Douce
December 14th Doubles Vies the latest film from Olivier Assayas with a look at his work.
The Cinema Museum – French Sundaes
Next season in Spring 2020.
A brief history of Modern French Cinema in 11 classes 1959-2017
      Classes held at the Cinema Museum (see above)                                                   
    Summer term 2019  Tuesday evenings 7.00 to 9.00
I am very pleased that we will have a chance to look at the history of Modern French Cinema.
Booking  here   Again at the lovely Cinema Museum in Kennington.


"I thought the time line approach and the balance of clips to information was nicely realised.  Plus great infectious enthusiasm from your good self.  Keeping the energy up so important in a group and you got it just right."
          One week the class visit a film or play and the next week discuss it.
          A chance to learn more about current trends and become your own critic!
"This class took me to films, play and even places I would never have been to by myself – really exciting.'
         Held at Morley College itself. Book now for January 2018 places limited.

Other courses, KS3, A level, Film Societies etc. by arrangement.