Where is Watermans?  Click Here
(Sample notes here: Téchiné  or The Illusionist)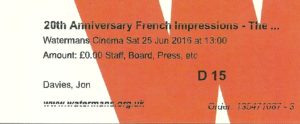 2022/23  Dates French Impressions 

January 14  The new, and stunning, film from the Dardenne Brothers Tori and Lokita with a review of their work.
February 25  A re-issued and re-mastered classic 'Casque D'or'. An amazing melodrama with Simone Signoret at her best in a role to die for. As background clips from neglected classics of the 50's. Lots to love.
March 18  More Than Ever – a sensitive and uplifting exploration of a couple coming to terms with a premature diagnosis of death. As an introduction clips from a wide range of French films that have dealt with the Grim Reaper (more fun than it sounds).
April 15   Saint Omer – a courtroom drama with a difference. Engrossing. As background clips from films where documentary met drama.  (Note change of date from 17th)
May 13. The Night of the Twelfth     This film swept the Césars (French Oscars) this year so I'll be looking back at some of the César highlights recently.   
June 10 Rodeo     (Note change of date from 17th) Girls against the world will be the theme of this story of a teenager who dares to be different in a world of motorbikes and boys.
July 8 One Fine Morning – Léa Seydoux in Mia Hansen-Løve's new romantic drama. And since it is ten years since We last ooked at French Romcoms – time to find out what's going on again.
The Cinema Museum – French Sundaes are back
!
2023 Dates



May 14th Le Roman d'un tricheur (Diary of a Cheat) 1938, the edgy Sacha Guitry classic described by François Truffaut as a masterpiece – and as background a look at film scandals to put it in its very French context.
June 18th L'Horloger de St Paul (The Watchmaker of St Paul's) 1974 Bertrand Tavernier's debut feature takes a Simenon story, set in America and brings it home to Lyon – and detective clips from the history of French Cinema.
July 9th Bienvenue chez les ch'tis (Welcome to the Sticks) 2008, Dany Boon's marvellous comedy, needs a fresh screening and a look at modern French comedies
The Cinema Museum, Elephant and Castle
Museum opens at 1.30 for event at 2.00. Finishes by 5. (Note earlier time this season).


At 2.00 a talk and introduction, a screening of a complete feature, tea and cakes and a chance to see some of the amazing exhibits at the lovely Museum
In the meantime lots to see there with both its cinemas open again.
          One week the class watch on line or visit a film  and the next week discuss it.
          A chance to learn more about current trends and become your own critic!
"This class took me to films, play and even places I would never have been to by myself – really exciting.'
         Held at Morley College itself. Book now for January 2022

and…
Other courses, KS3, A level, Film Societies etc. by arrangement.