Where is Watermans?  Click Here
(Sample notes here: Téchiné  or The Illusionist)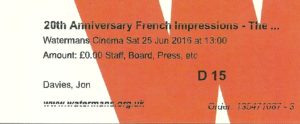 2021  Dates French Impressions

Sadly Covid has bitten again and Watermans will not be restoring full screenings of French Impressions until February
This is very disappointing I know for all of us.
We will however continue with an on-line French Impressions selecting films that will be shown at Watermans or available online.
Dates:
22nd January at 2.30 By Zoom on line owing to Covid with the film Lola and The Sea. TRAILER
26th February – Gagarine – a really imaginative look at life in the suburban estates thirty years after La Haine. TRAILER
19th March La Mif – excellent look at life in a Children;s Homes and how it affects the children and staff. TRAILER
23rd April
     0207 450 1889 or online booking
          One week the class watch on line or visit a film  and the next week discuss it.
          A chance to learn more about current trends and become your own critic!
"This class took me to films, play and even places I would never have been to by myself – really exciting.'
         Held at Morley College itself. Book now for January 2022

The Cinema Museum – French Sundaes
2022 Dates! Watch this space….but the next season will be

and…
Other courses, KS3, A level, Film Societies etc. by arrangement.