I present programmes at several venues…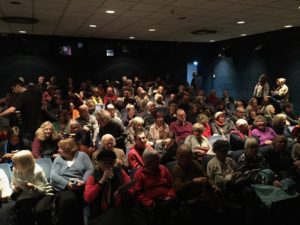 Where is Watermans?  Click Here
Saturday French Impressions with feature screening.
(Sample notes here: Téchiné  or The Illusionist)
Dates for your diary All At 1pm finish by 5p
2018
June 16th  Un beau soleil Interieur (Let the Sunshine In) by Claire Denis.  In Today's film single mum Juliette Binoche is looking for romance but fishing in a very shallow pond. As background I will be showing clips where other French women lead actors are seeking Monsieur Parfait.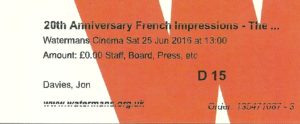 2018-19 Dates
September 29th (NOTE NEW DATE) Fatima – A UK premier for a cinema screening of the film that won the 2016 Césars and Prix Louis Delluc by special arrangement with the distributors. Book Early
October 27th Ismael's Ghost – a splendid new thriller with a look at the work of Charlotte Gainsbourgh.
November 24th  The Guardians (Les Gardiennes) a wonderful film showing the tensions in a small village dealing with the Forst World War being fought at the time. It has everything and agreat performances.
December 15th C'est La vie  (Le Sens De La Fete) – a comedy of errors from the team that brought us Intouchables.
      Near Waterloo Station.
     0207 450 1889 or online booking
          One week the class visit a film or play and the next week discuss it.
          A chance to learn more about current trends and become your own critic!
"This class took me to films, play and even places I would never have been to by myself – really exciting.'
         Held at Morley College itself. Book now for January 2018 places limited.

A brief history of French Cinema in 20 classes 1895-2017
      Classes held at the Cinema Museum (see above)                                                   
     Spring and Summer term 2019  Tuesday evenings 7.00 to 9.00 from January 8th to July 9th.
I am very pleased that we will have a whole 20 weeks to look at the history of French Cinema – a chance to look at four key auteurs, more clips, more time for discussion and more time to reflect.
Booking not open yet but if you have done the 10 week course this will be a good follow-up. Again at the lovely Cinema Museum in Kennington.


"I thought the time line approach and the balance of clips to information was nicely realised.  Plus great infectious enthusiasm from your good self.  Keeping the energy up so important in a group and you got it just right."
Here is the provisional timetable:
Other courses, KS3, A level, Film Societies etc. by arrangement.