Where is Watermans?  Click Here
(Sample notes here: Téchiné  or The Illusionist)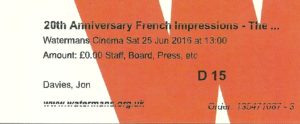 2022/23  Dates French Impressions
January 14  The new, and stunning, film from the Dardenne Brothers Tori and Lokita with a review of their work.
February 25  A re-issued and re-mastered classic 'Casque D'or'. An amazing melodrama with Simone Signoret at her best in a role to die for. As background clips from neglected classics of the 50's. Lots to love.
March 18  More Than Ever – a sensitive and uplifting exploration of a couple coming to terms with a premature diagnosis of death.
April 15   Saint Omer – a courtroom drama with a difference. Engrossing.
May 13. To be decided.
June 17 and July 8 To be decided.
The Cinema Museum – French Sundaes are back
!
2023 Dates coming soon



The Cinema Museum, Elephant and Castle
Museum opens at 1.30 for event at 2.30. Finishes by 5.30

At 2.30 a talk and introduction, a screening of a complete feature, tea and cakes and a chance to see some of the amazing exhibits at the lovely Museum
In the meantime lots to see there with both its cinemas open again.
          One week the class watch on line or visit a film  and the next week discuss it.
          A chance to learn more about current trends and become your own critic!
"This class took me to films, play and even places I would never have been to by myself – really exciting.'
         Held at Morley College itself. Book now for January 2022

and…
Other courses, KS3, A level, Film Societies etc. by arrangement.