I present programmes at several venues…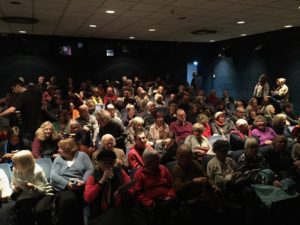 Where is Watermans?  Click Here
Saturday French Impressions with feature screening. 1pm for talk, 2.30 for feature followed by Q and A. Finish by 5.
(Sample notes here: Téchiné  or The Illusionist)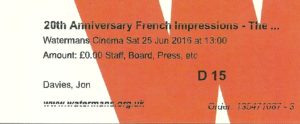 2018-19 Dates
September 29th  Fatima – A UK premier for a cinema screening of the film that won the 2016 Césars and Prix Louis Delluc by special arrangement with the distributors. Book Early
October 27th Ismael's Ghost – a splendid new thriller with a look at the work of Charlotte Gainsbourgh.
November 24th  The Guardians (Les Gardiennes) a wonderful film showing the tensions in a small village dealing with the Forst World War being fought at the time. It has everything and great performances. As background a look at women and the Great War.
December 15th C'est La vie  (Le Sens De La Fete) – a comedy of errors from the team that brought us Intouchables. And for Christmas a fresh look at French comedy.
January 19th The Cinema of Laurent Cantet with a screening of his latest release The Workshop
February 16th The Cinema of Jean Cocteau with a screening of the re-mastered Orphée
March  16th – Robert Guédiguian's new film La Villa  (English title The House by the Sea) with a look at the film history of Marseilles.
April 27th –  An Impossible Love A wonderful film from Catherine Corsini that charts the life of a young woman from first passions to grandparenthood with many surprises. Great performances and a gripping plot. As background clips from films that have looked at the world from a woman's point of view.
May 18th – Girl 'a fantastic film'  (John the Waterman's programmer) which made the Golden Globes short list; topical and with an excellent lead performance. And a selection from the rich seam of French films that have explored the joys and terrors of adolescence.
June 22nd – Le Douleur (Memoirs of War) . The story of Marguerite Duras's experiences during the occupation. Beautifully crafted and acted. I'll be looking at how French Cinema has reacted to and depicted the Occupation in the last twenty years.
The Cinema Museum – French Sundaes
Making a fuss – Four French films that dared to be different.
2.30 – doors open at 1.30 for exploring the museum, drinks and snacks. All end by 5.30.
A talk illustrated with clips and a chance to see a feature film chosen to inspire.
April 14th
Julien Duvivier's La Belle Equipe 1936 – A film of its time and a splendid look at the fragility of the human bond with Jean Gabin. How does this film reflect and challenge Francee at this turbulent time?
May 12th
Louis Malle shocked France with his attacks on the Catholic church, the middle classes and the taboo of incest in his 1971 Souffle au Coeur. A tender and heartfelt film that ripped open the hypocrisy of 1970's France.
June 23rd
La Haine led to a special French Cabinet meeting being called. Was this a film that reflected French social disorder, predicted it or caused it? Mathieu Kassovitz brought together three young talents, Vincent Cassel, Hubert Koundé and Said Taghmaoui in a stunning tour de cinema.
July 14th
La Famille Bélier – Eric Lartigue's 2014 gentle comedy about French rural life for a family of profoundly deaf farmers caused controversy over its choice of actors and content. Jon Davies will look at other films that challenge the notion of the happy family.
A gentle and joyous end to this ninth season of French Sundaes.
A brief history of Modern French Cinema in 11 classes 1959-2017
      Classes held at the Cinema Museum (see above)                                                   
    Summer term 2019  Tuesday evenings 7.00 to 9.00
I am very pleased that we will have a chance to look at the history of Modern French Cinema.
Booking  here   Again at the lovely Cinema Museum in Kennington.


"I thought the time line approach and the balance of clips to information was nicely realised.  Plus great infectious enthusiasm from your good self.  Keeping the energy up so important in a group and you got it just right."
          One week the class visit a film or play and the next week discuss it.
          A chance to learn more about current trends and become your own critic!
"This class took me to films, play and even places I would never have been to by myself – really exciting.'
         Held at Morley College itself. Book now for January 2018 places limited.

Other courses, KS3, A level, Film Societies etc. by arrangement.