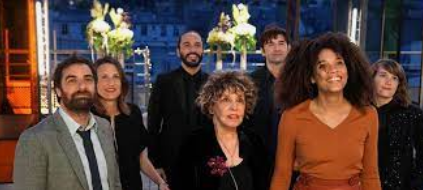 I was asked (thanks Dave and Alison) to offer some links to the actors who appear in this wonderful programme and below you will find a list of films I think will fit in nicely to the Call My Agent zeitgeist and display the various actors to their best.
Health warnings though:
Quite a few of the 'stars' are mainly known to French audiences for TV series, so for instance regarding Audrey Fleurot Spirals/Engrenages will be known to UK audiences but the marvellous Une Village Français won't be.
Some of the films are available only in French such as Camping, Clara et Moi
You may have to hunt Amazon. Netflix Mubi.
Happy to receive your own suggestions and send me links to where they can be streamed.
The first table is reserved for the talent at ASK!
| | | |
| --- | --- | --- |
| Actor | Role | Suggested film to savour |
| Grégory Mantel | Gabriel | Les Parfums 2020 |
| Lilliane Revère | Arlette | Vénus Béauté Institut 1999 |
| Thibault de Montalambert | Mathias | Aurore 2016 |
| Laure Calamy | Noémie | Antoinettes dans les Cevénnes 2020 |
| Fanny Sidney | Camille | Not yet |
| Stéfi Celma | Sofia | Not yet |
| Nicolas Maury | Hervé | Not yet |
| Camille Cottin | Andréa | Conasse – Princesse des coeurs 2014 |
SEASON ONE
| | | | |
| --- | --- | --- | --- |
| Season | Episode | Stars | Suggested film to savour |
| 1 | 1 | Cecile de France | LA Gamin au vélo 2011 |
| | 2 | Line Renaud | Bienvenue chez les Ch'tis 2007 |
| | | François Fabian | Ma Nuit Chez Maude 1974 |
| | 3 | Nathalie Baye | Vénus Béauté Institut 1999 |
| | | Laura Smet | Les Gardiennes 2016 |
| | 4 | Audrey Fleurot | Intouchables 2011 and of course Engrenages/Spirals on TV |
| | 5 | Julie Gayet | Clara et moi 2003 |
| | | Joey Starr | Polisse 2011 |
| | 6 | François Berléand | Au revoir les enfants 1987 |
SEASON TWO
| | | | |
| --- | --- | --- | --- |
| Season | Episode | Stars | Suggested film to savour |
| 2 | 7 | Virginie Efira | Dead man talking 2013 |
| | 8 | Fabrice Luchini | Alceste à bicyclette 2013 |
| | | Christophe Lambert | Subway 1985 |
| | 9 | None of real note | |
| | 10 | Isabelle Adjani | L'été meutrier 1983 |
| | 11 | Guy Marchand | Garde à vue 1981 |
| | 12 | Juliette Binoche | Trois couleurs bleu 1993 |
SEASON THREE
| | | | |
| --- | --- | --- | --- |
| Season | Episode | Stars | Suggested film to savour |
| 3 | 13 | Jean Dujardin | The Artist 2011 |
| | 14 | Monica Bellucci | Asterix et Obelix: Mission Cléopatre 2001 |
| | 15 | Gérard Lanvin | Le gout des autres 2000 |
| | 16 | Isabelle Adjani | La Reine Margot 1993 |
| | 17 | Béatrice Dalle | 37.2 le matin (Betty Blue) 1985 |
| | 18 | Camille Cottin | Conasse – Princesse des coeurs 2014 |
SEASON FOUR
| | | | |
| --- | --- | --- | --- |
| Season | Episode | Stars | Suggested film to savour |
| 4 | 19 | Charlotte Gainsbourg | Ma femme est une actrice 2001 |
| | 20 | Franck Dubosc | Camping 2006 |
| | 21 | José Garcia | Extension du domaine de la lutte 1989 |
| | 22 | Sandrine Kiberlain | Betty Fisher 2000 |
| | 23 | Sigourney Weaver | Alien 1992 |
| | 24 | Jean Reno | Le Dernier Combat 1983 |